This article was written by Trevor O. Burt.
I am happy to report back from the 9th International Congress of Dipterology (ICD9), which took place in November, 2018, in Windhoek, Namibia.The International Congress of Dipteralogy (ICD) is a meeting that brings together dipterists from all around the world every four years to present their scientific findings, discuss and debate the latest research projects, converse and collaborate with colleagues, and for students and scientists to develop new network branches in the Diptera community.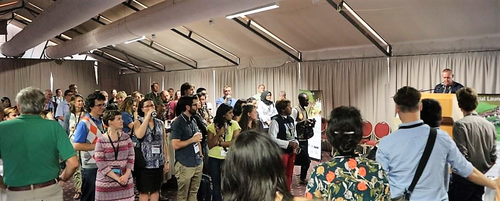 The 9th edition of the congress was dedicated to the launching of the first two of four volumes of the Manual of Afrotropical Diptera, which is a ground-breaking leap forward in the study of flies. The congress theme was centered on Afrotropical dipterology, though research from all regions was presented. Over 273 delegates and students from 51 countries from around the world were in attendance presenting 321 abstracts for oral or poster presentations, across 23 symposia.
I myself gave two presentations in the "Advances in Diptera phylogenomics" symposium. My first talk was titled "Is this the end of Syrphoidea? – Flower flies (Syrphidae) and big-headed flies (Pipunculidae) are not sister-groups." This talk served to present results from our paper (Pauli et al. 2018). My second talk was titled "Big Data, big challenges – resolving the phylogenetic relationships of the subfamily Syrphinae (Syrphidae) with target DNA enrichment." This one presented the early results of a long-term, collaborative Syrphidae of the World project using target enrichment techniques to generate large genomic data sets with the goal of generating phylogenetic trees to explore the subfamilial and genera-level relationships of hoverflies. This particular talk focused mainly on the genera-level relationships of the subfamily Syrphinae.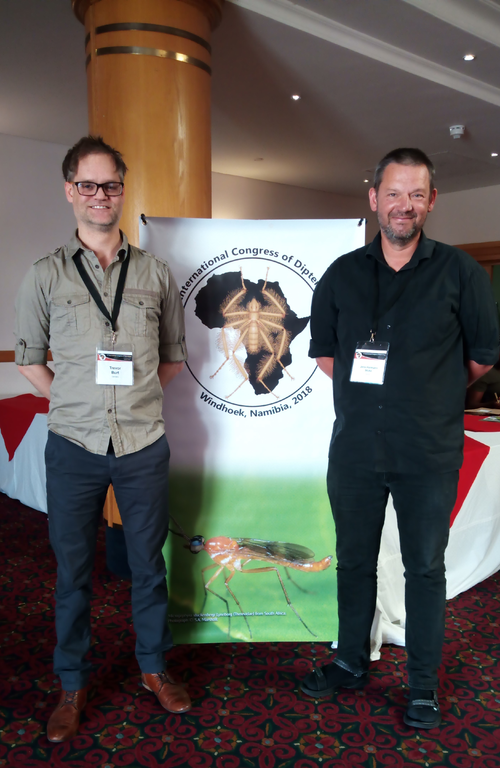 Trevor Burt (left) and Dr. Jens-Hermann Stuke (right)
Overall, the congress was a great success and yielded many opportunities for future collaborative projects. The many symposia were extremely varied, ranging from taxonomy, phylogenomics, to medical and forensic dipterology, to pollination and ecology studies. This variety gave delegates and students alike a good sense of research undertaken by scientists from around the world and a chance to converse directly with presenters.
The ICD9 experience was scientifically incredibly satisfying. The people I met and talked to, and the relationships I was able to develop were invaluable.