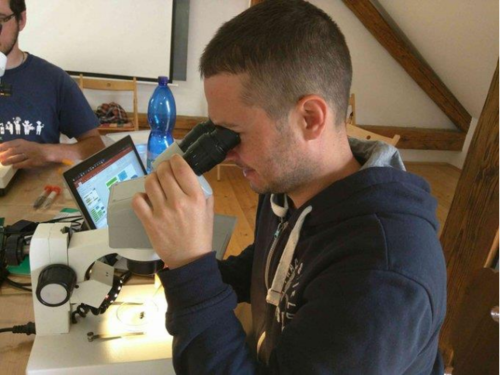 Viktor Senderov, a young computational biologist, was distinguished by the national contact point for research programmes of the EU Net4Mobility+ for his work as a Marie Skłodowska-Curie PhD Candidate in Bioinformatics of the BIG4 Consortium. The BIG4 project is specialized in providing biosystematics, informatics and genomics training and workshops for young researchers. Recently, he also became the Bulgaria FameLab 2019 finalist, a global competition finding and supporting the world's most talented new science, technology, engineering and maths (STEM) communicators.
While working on his PhD, Viktor Senderov was a data scientist at Pensoft Publishers with the aim of building the Open Biodiversity Knowledge Management System (OpenBiodiv).
Today, he is working on cutting-edge phylogenomics modelling at the Ronquist lab in the Museum of Natural History, Stockholm. His work at Pensoft is now continued by Mariya Dimitrova.
"Taxonomists investigate the Planet's biodiversity and publish their findings as research papers or monographs in peer-reviewed scientific literature. Access to these findings is difficult as a lot of papers have been published in the 18th and 19th centuries and have not been digitized. Biodiversity informaticians' top priority in the last twenty years has been to create a unified system to access biodiversity data. Such a system will diminish the time they spend in manual archival work and will enable them to concentrate on ecological, conservation, and evolution questions", he elaborated.
Viktor Senderov explained that being part of ITN is beneficial for young researchers as they participate in the international exchange of ideas and get to extend their professional networks. The generous scholarship allowed him to go back to his home country and to simultaneously do science at an international level.
He recommended the ITN program to everybody but remarked that the enthusiastic scientists have to get well-acquainted in advance with the scientific and administrative aspects of their future project so that you have the right expectations. Especially if they have decided to do science in a widening country which is harder than in Western Europe but can be highly rewarding for people with high independence.